I love to see what other bloggers are up to. Smiling Sally says, "My favorite color is blue, so I thought, 'Why not have a Blue Monday?' Every Monday, I'll have a blue post, and I'd like to invite you to participate."
Well, since blue is my favorite color, too, I'm on it. This old blue chest has traveled all the way from Ohio to Colorado, and now sits under the windows in our living room. I use it to store tablecloths, candles and DVD's. I LOVE this piece.
Please visit Smiling Sally's Blue Monday to see more pictures from around the world and join in the fun.
SmilingSally.blogspot.com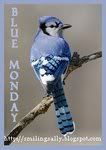 Happy Blue Monday!